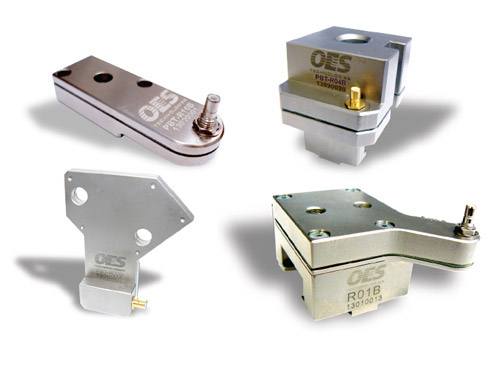 PBT Sensors
Exceptional sensing performance. Specifically designed for Wire harness industry and small gauge wire by OES.
Up to 10 times the resolution of current sensing methods for better defect detection.
Proven more sensitive then ceramic or quartz piezoelectric sensors.
The PBT sensing element is mounted directly over the crimping tool for optimum sensor performance and eliminating possibility of "shunting" of the force signal.
A true plug and play
The PBT sensor can be designed as a substitute machine component.
The PBT sensor life expectancy exceeds 10 million cycles under normal use.
The PBT sensor has a 4X over-range capacity of the calibrated force range. This ensures sensor survivability and reliability for varying operational conditions.
Specifications
| | |
| --- | --- |
| Dimensions | Machine specific |
| Mounting | Machine specific |
| Operating temperature | 15 to 50C, 60 to 120F |
| Measurement range | 0.4 kN to 100 kN |
| Absolute maximum force | 100 kN |
| Electrical connector | SMB Coaxial Jack |
PBT Force Sensors work our complete line of crimp force monitors (CFM) and process variation monitors (PVM).
Crimping
Assembly
Clinching
Toxing
Welding
Riveting
Press Fitting
One year warranty coverage from date of purchase.
For questions related to warranty, email technologies@oes-inc.com.
Get a Quote
We'd love to provide you with a quote. Let us know what you and interesting in and we'll connect with you within 24 hours.