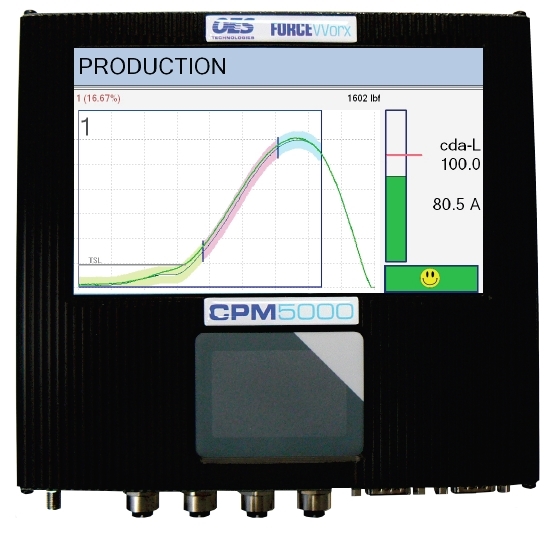 CPM5000
The most comprehensive and flexible crimp monitor on the market today. A reliable crimp process monitor supplied with ForcePak user interface software.
Configurable for one or two channels.
Configurable for many different sensor types including voltage and IEPE standard sensors.
Proven performance with 100% traceability
Integrated automatic target recalculation (ATR) tracks the process trend and further optimizes the CPM5000 for optimal performance and defect detection while minimizing unnecessary scrap
Unlimited number of parameters for critical terminal wire combinations can be optionally stored by part number and are easily recalled through the touch screen interface
Optional bar code scanner provides further error proofing and automation of the changeover process reports
Every crimp signature is captured into the Crimp Data Management System
Simple Connectivity
Can operate as a standalone system or can be connected to an existing client network
Optionally connecting to an excising system allows for remote monitoring and management of an unlimited number of CPM5000 crimp process monitors
High Security
Supports multiple users each with a unique password and access permissions
QPM Option
OES QPM System brings a level of automation, efficiency, and assurance of quality to the plant floor that is unsurpassed in the industry
Specifications
| | |
| --- | --- |
| Dimensions | 185 x 198 x 70mm (7.28" x 7.80" x 2.75") |
| Supply voltage | 24VDC ext. adapter, 100-240VAC 50-60Hz 1.0A |
| Communications | 2 Ethernet RJ45, 2 USB 2.0, 2 RS232 |
| Sensor inputs | Piezo strain, Piezo force ring, PBT force sensor, Voltage |
| Inputs | 4 |
| Outputs | 6 |
| Display | 7" colour touch screen |
| Mounting | Universal mounting bracket |
| Analysis | CDA |
| Operating temperature | 22 to 50C, 60 to 120F |
CFM5000 is adaptable to a wide range of bench presses and automatic machines. Suited for applications related to:
Crimping
Cold Heading
Press Fit
Two year warranty from date of purchase.
For questions related to warranty, email technologies@oes-inc.com.
Get a Quote
We'd love to provide you with a quote. Let us know what you and interesting in and we'll connect with you within 24 hours.